Automated monitoring systems
Our state-of-art customised real-time technology not only monitors your system and allows you to view your site in real-time, but immediately alerts you if something goes wrong, saving you both time and money.
To request demonstration access to Barn Report PRO, please enter your email address here:
This invaluable data can then be used to make informed management decisions to improve your overall operation.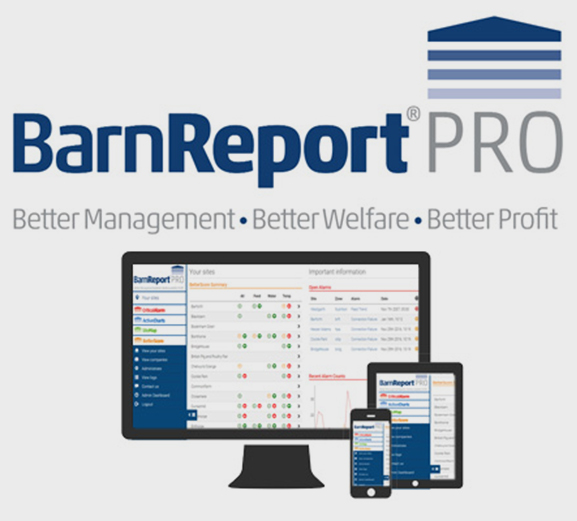 BarnReport Pro consists of a a number of real-time components that can be used individually or in combination with each other to help producers monitor and analyse their pig production systems.
ActiveCharts is a display and analysis tool which allow you to view your current and historical data in tables and graphs as well as export data for further analysis. You can view your production site in real-time by accessing it through a browser on your office PC, your laptop or your smart phone using SiteMap.
Comprehensive and flexible alarms are easily set up using CriticalAlarm, allowing you to manage who is notified and how often, when a problem is detected on site. Or how about having access to BetterScore, a feature that will analyse and score your data on feed, water and temperature variations so you can be notified of any potential health alerts? Lastly, with our new TrackGrowth system, you can weigh pigs and record growth rates with feed conversions in real time.
Data Services work with clients to gain maximum value from their real-time monitoring systems turning data into information into knowledge into PROFIT.

Manage the risks within your production site.

The graphical viewing and analysis tool for pig professionals.

Based on accurate scaled drawings that can be adapted as needed.

Real-time data scoring and flexible notification system.

View the weight, average daily gain and feed conversions of your pigs.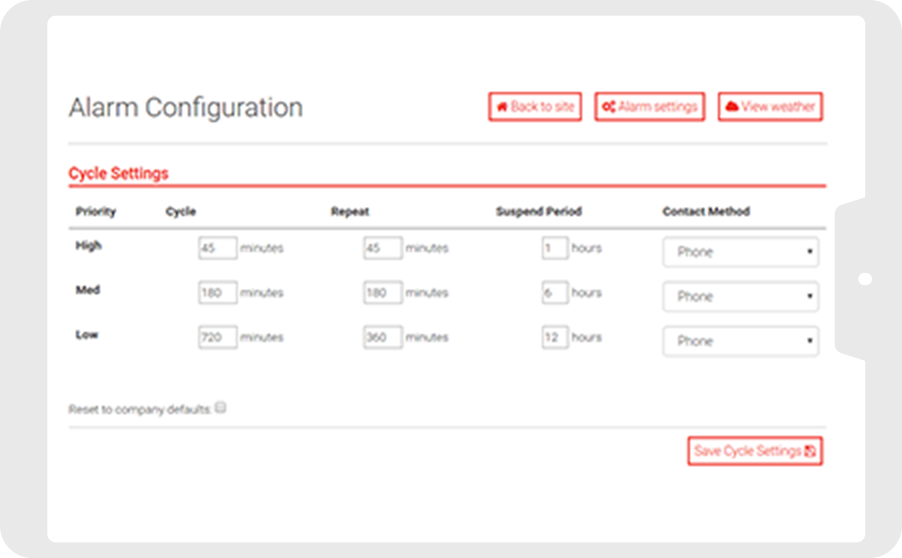 CriticalAlarm can manage the risks within your production site and ensure that you are notified immediately when somethings goes wrong. A triggered alarm will send a phone call, SMS message or email to the relevant management or production staff as specified by you. The system is completely flexible and alarms can be defined and customised by the user at the click of a button.
CriticalAlarm will:
Instantly and automatically notify you of a problem
Alert you by SMS, email or phone call
Notify specific staff member(s)
Provide flexible, customised solutions
Help you to manage and reduce risks on site
ActiveCharts is the graphical viewing and analysis tool for pig professionals. The system can be configured to log data such as temperature, feed and water consumption. Viewing data is as easy as point and click and provides daily updates about key parameters. Charts can be tailored to your production system with room specific data depending on what data is being collected.
Typical parameters include:
Temperature
Electricity
Humidity
Pig Weight
Wind Direction
Water Flow
Ventilation
Air Quality
Rainfall
Feed Flow
Light Level
Feed Bin Weight
Wind Speed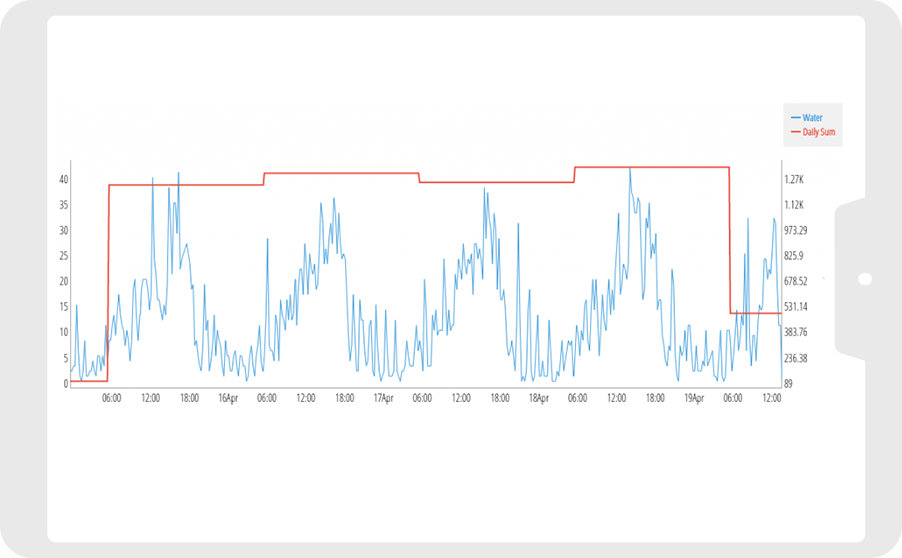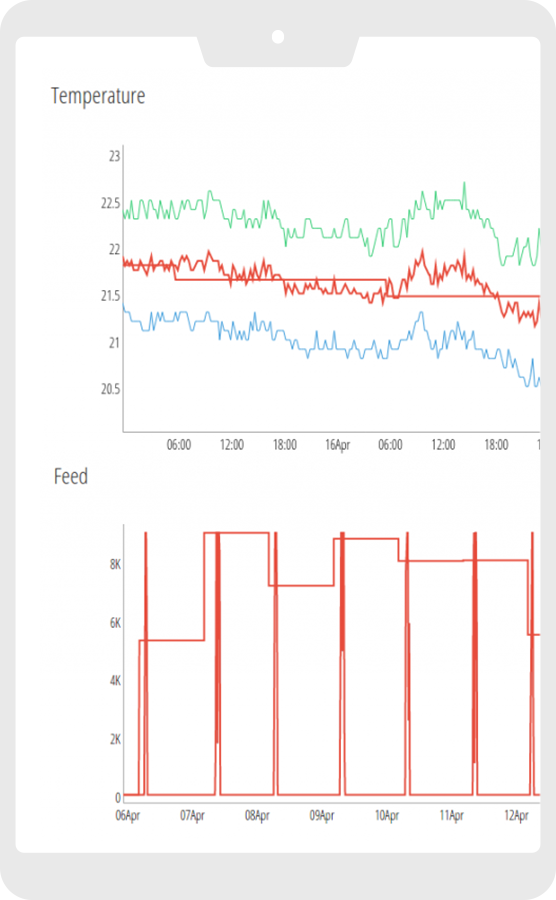 Water
Understanding water intake is crucial. Not only is the volume of water consumption closely related to intake and therefore growth but the pattern gives us useful insights into behaviour. Variations can indicate the presence of subclinical disease and other health problems.
Feed
Feed is the costliest part of your operation and therefore maximising feed efficiency is key. By understanding how much your pigs are eating and when, you can better manage what changes can be made to maximise efficiency. If you have GrowthSensor installed on site, real time-average daily gain and feed conversion become available.
Temperature
We monitor external temperature, set temperature in the shed as programmed by you, and the temperature of multiple sensors in the building. These graphs provide a clear picture of how effective temperature control is within an airspace. This ensures optimal climate and therefore performance from your pigs.
SiteMap is based on accurate scaled drawings that can be adapted as and when new units are constructed or demolished. A clear layout and individually labelled rooms means that seeing and responding to a problem on site is easy, this is particularly useful on larger farms.
A range of live indicators are available depending on what systems you are monitoring.
These include:
Room temperature | Set temperature Fans | Creep temperature | Feed Auger | Heaters | Water
SiteMap will:
Provide a remote overview of your entire site
Give you real-time information
Allow you to assess your site's performance
Provide scalability as your site develops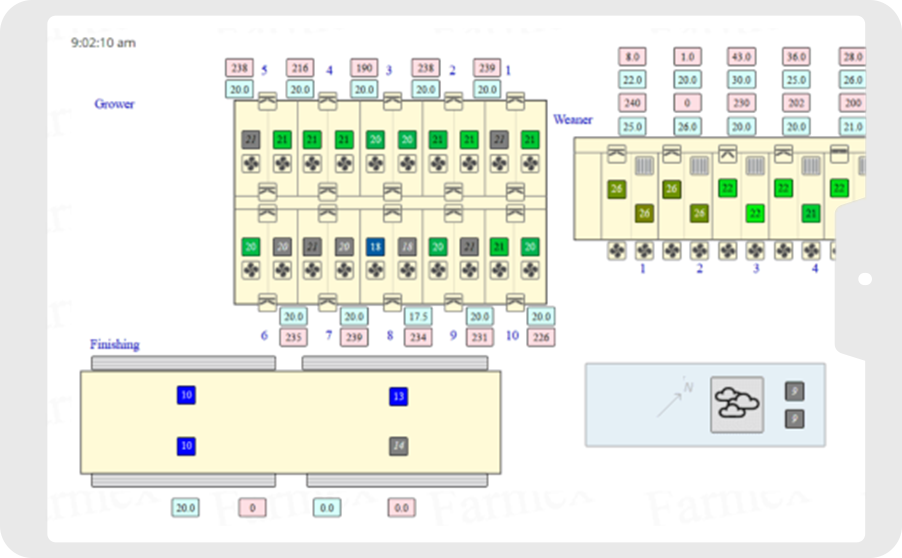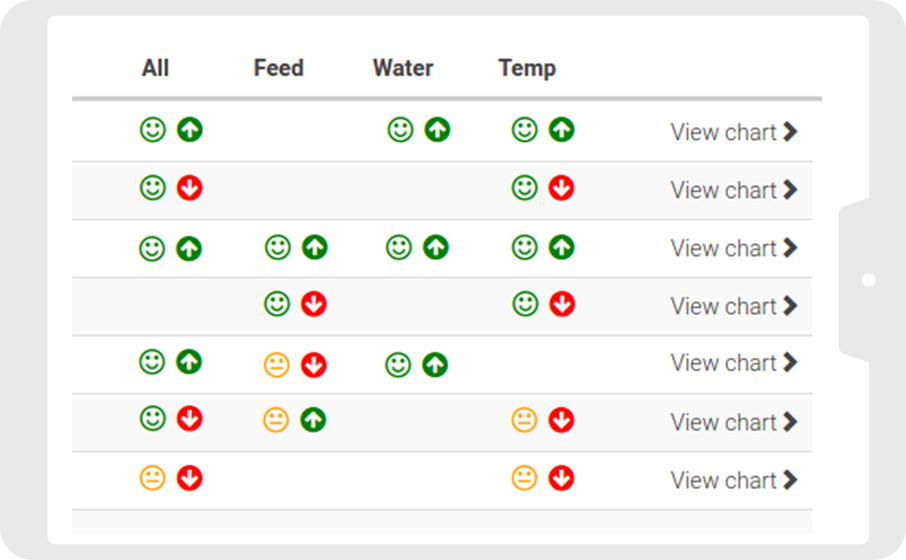 BetterScore is a real-time data scoring and flexible notification system. Variability in feed and water consumption as well as room temperature can significantly affect the growth performance of your pigs, so BetterScore continuously analyses and evaluates these parameters and scores them on a daily basis. BetterScore can also be up to trigger phone, text or email notifications when a significant increase in variability is detected so you are aware when a problem arises.
Daily trends in feed and water consumption give us important information on the health, growth performance as well as the welfare of pigs. By monitoring these data trends, potential health problems can be flagged and investigated prior to the onset of symptoms, providing an opportunity for early treatment.
BetterScore will:
Provide real-time scoring and notifications
Identify variations in feed and water intake and temperature
Ongoing evaluation and daily scores
Continuously evaluate and score your data
TrackGrowth allows you to view the weight, average daily gain and feed conversions of your pigs on a daily or even hourly basis. Using the GrowthSensor, an in-pen voluntary access scale, you can see how your pigs are performing in real time.
Data can be viewed in charts and tables, allowing you to make timely management decisions using accurate, live data rather relying on historic data.
The GrowthSensor is an in-pen voluntary weigh scale developed by A.R.M Buildings, Dicam Technology and Farmex. It continuously records the animals' weight as they wander in and out the of the scales. This is sent wirelessly to the computer network and then to an online database.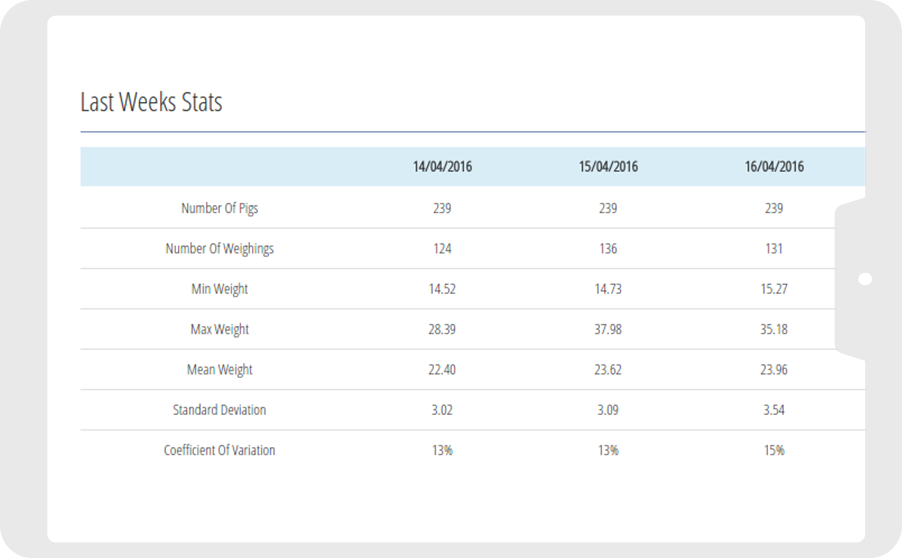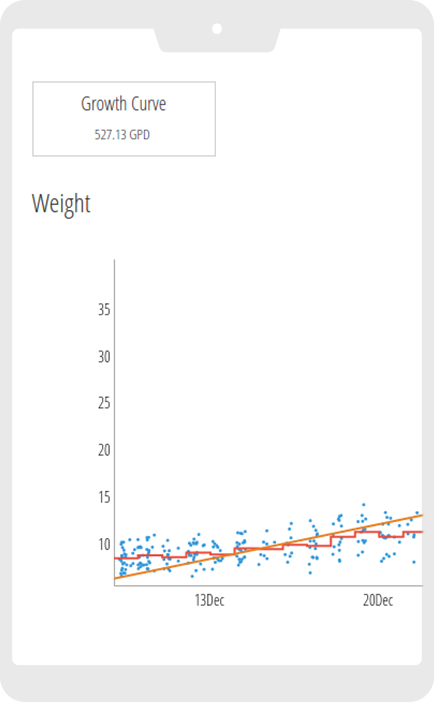 TrackGrowth allows you to view weights, average daily gain and feed conversion in real-time: a first for pig production!
Weight data is presented in both graphs and tables which are easy to understand and interpret.
TrackGrowth can also provide invaluable information to nutritionists and vets so they can make informed decisions about your pigs. So whether you'd like to see how your pigs are performing while they are still growing, or perhaps you just want to know when your first pigs reaches slaughter weight, TrackGrowth can do all of this.
While optimum system performance is achieved using both TrackGrowth, other types of weighing systems including other weigh scales and visual image analysis can also be integrated into BarnReport Pro.